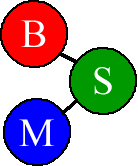 Are you tired of spending too much time dealing
with tools instead of building your group?
Do you need an easier way to track tool orders?
Would you like to have a complete tools management system?
...then download our FREE Trial Version or Order Now for $19.99!
I worked hand-in-hand with a Diamond and his office manager to create the best tools management software available. This Diamond liked it so much that he now has his Executive Diamond using the software.
System Requirements
Win 95/98/ME/2000/XP
30 MB Hard Drive Space
32 MB RAM
Microsoft Database Drivers (see FAQ)
Risk Free Guarantee
In the unlikely event that you're not satisfied with this software, simply return it within 30 days and your purchase price will be refunded. There is no risk!!!
With this software you can:
Quickly create orders for each downline IBO.
Keep a complete order history for each IBO.
Keep a complete payment history for each IBO.
Keep a running balance for each IBO.
Search for products by keyword. No more looking up item numbers.
Import invoices from downline IBOs who also use the software.
Automatically keep track of backorders.
Generate a composite order of all the downline orders combined that you can then send upline if they are using the software.
Enter separate tax and handling percentages for each IBO.
I was told by a Q-12 Platinum Distributor that she now has her Sundays available because it takes her less than one hour to create her tools order instead of all day.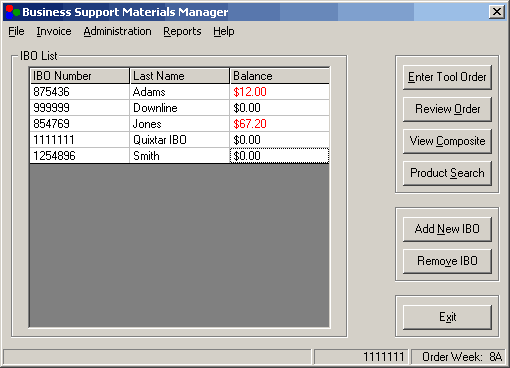 Main Screen
Anyone who has at least 2 downline IBOs on the system will benefit from this software. This software will make your life much easier than manually tracking your tools orders. This will free you up to spend more time showing the plan.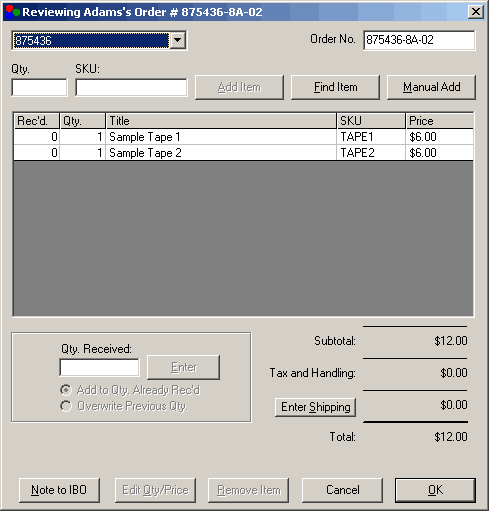 Order Screen
All you have to do to get started is enter your downline information and the products from your organization. If multiple people from your organization are using the software, I can show you how to share the product database.
If you are comfortable using the Quixtar web site then this will be no problem. And you can always email me for support. All you have to do to get started is to enter the information for each Dowline IBO and enter the products sold by your organization. If you have multiple people in your group using the software, I can show you how to share the products database.